Canadian Josh Binstock was in trouble. Binstock and partner Sam Schachter were down 11-8 in the deciding third set to countrymen Sam Pedlow and Grant O'Gorman at the Olympic trials in North Bay, Canada. At stake: the very last spot in the 2016 beach volleyball Olympic field.
"I looked across the net at my family and friends, who made the four-hour drive to get here. It gave me the extra kick in the ass," the 35-year-old Binstock recalled. "I don't care how bad it looks now, I'm going to change it and turn it around."
"We just had to execute our block defense better. Our game plan was sound and tight, the execution wasn't at the level it needed to be."
Minutes later, Binstock/Schachter closed the match out 15-12 and punched their ticket to Rio.
Binstock, a chiropractor in Toronto, said after winning that he hadn't fully had a chance to absorb the accomplishment.
"It's pretty crazy, for sure. I haven't had a chance to embrace it all quite yet. After qualifying, I had my buddy's wedding, and it's pretty busy. I think we're the last athletes to qualify for the Olympics, and we had to get a bunch of administrative forms in, so it's definitely been a whirlwind."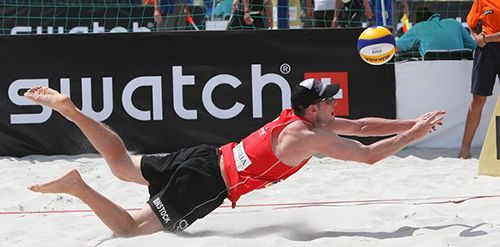 Before Rio, Binstock and Schachter play this weekend in the FIVB event in Klagenfurt, Austria.
"It'll be good to get that tournament under our belt," he said, "and then get our game back to the world tour competitive standard before we go compete."
Binstock is an Olympic veteran, having earned a 17th place in 2012 with Martin Reader. This will be Schachter's first Olympic games.
"Try not to get overstimulated with external stuff," Binstock said he's advised Schacter. "Having the Pan Am games experience was massive, because you can't really prepare for a multi-sport games until you experience it because playing on the world tour, even though the competition is the same, the environment surrounding you is totally different."
"I'm telling Sam not to get too high, or get too low, stay focused on the task at hand and try to block out all the distractions. We're not staying in the village, we're staying in an apartment, which will help us avoid the distractions."
Binstock, who bounced back from an offseason abdominal-muscle tear, has competed extensively in the United States on the NVL tour, earning four wins on the tour, and garnering MVP honors in 2014. Binstock feels that it helped him prepare for the international tour: "The professionalism of the tour, the level of the tour, it always brought out the best in us, it was nice to have the opportunity to play some of the best players in the country there. It has helped prepare us and kept us sharp."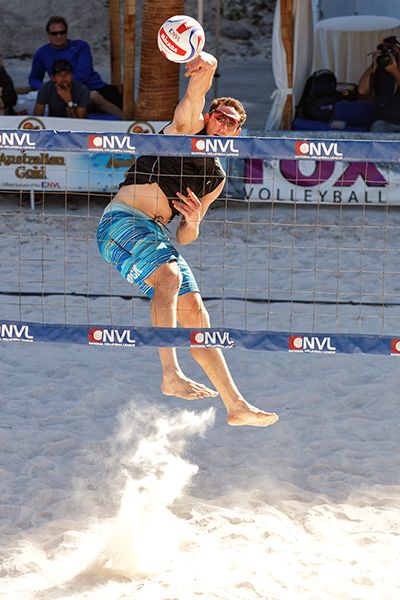 Binstock and the 26-year-old Schachter have established themselves as a dangerous team on the world tour, with second-place finishes in Porec (the first Canadian podium finish since 1997) and Cincinnati during the qualification period. They have wins over many of the world's top teams, including Phil Dalhausser/Nick Lucena of the USA, Jake Gibb/Casey Patterson of the USA, Adrian Gavira/Pablo Herrera of Spain, and Adrian Carambula/Alex Ranghieri of Italy.
"I love Josh and am thrilled for him," said the NVL's Al-B Hanneman. "I watched him compete in London and got to spend some time with him there. He is very well liked by the players on the NVL and I believe they won every NVL tournament they played in."
"Josh came on a volleyball vacation to the Turks and Caicos islands in 2012 after his first Olympic appearance and was immediately a crowd favorite on the trip. He is one of the most liked genuine people that I know and I couldn't be happier for him. He is one of the intelligent volleyball players that I know and he simply knows how to win. People love the guy and I'm proud to be his friend. "
Binstock, who played hockey and baseball as a kid before discovering volleyball in high school, was the Canadian flag-bearer at the 2013 Maccabiah Games. That was also the year and he and Schacter teamed up.
Despite being the last team to qualify, Binstock is confident.
"Getting there was such a focus. Now that we've qualified, the monkey is off our back, and we can reset, and get back to our free playing free flowing days when no one is expecting much, but we know we can medal because we've beaten the top teams in the world, so we're looking forward to a new start for our season, and seeing how we can perform on that level. "
Binstock discussed their training and preparation for Rio.
"We're mostly focused on our side for sure. Obviously some focus has to be on your opponents, because you have to create a game plan specifically for them, each team has a different style. We just know if we play to our ability we can beat any team in the world."
"I'm actually excited to have Alison (Cerutti) and Bruno (Oscar Schmidt) first round because they're expected to win gold, they're at home, it's their first match. Hopefully they'll be nervous, we don't really have any pressure, nobody is expecting us to win. We actually can win, which is nice, and have a good game plan going in, and can just play free, take risks, and see what happens. The environment there will be crazy. We like that stuff."
Binstock firmly believes that his background as a chiropractor gives him an edge.
"It helps me anatomically. It helps keep both Sam and me healthy and in peak condition, ready to perform. It helps us with deal with our extensive travel schedule."
"Mentally, having to deal with such a grueling and pressure-filled curriculum and exam schedule is analogous to finding a way to win a match. It's the same thing mentally."